---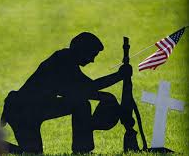 American Legion Dept. of Texas

21st District
2022-05-25
To: All Posts, Officers, and members:
Re: Uvalde school shooting

I received a text back from Jose Saucedo, Post Commander at 479 in Uvalde, at about 4:35PM on 05-24-2022:

McHorse thank you. As of now not to many details. My granddaughter was at the school, she is home now and shaken up, but doing well. It will be a long day for other families our prayers will be with them and our police officers.

I know that throughout the day, the news stations have been presenting news and updates on the situation. I waited to see if Jose could find out if any other post members had family involved, but wanted to get something out to all posts in the 21st District. We all need to take time and pray for the families that have lost loved ones.
Be ready if they need help in the Uvalde area.
Continued prayers throughout the days ahead and be aware of our surroundings.

Lord, we ask at this time for extra Grace and Mercy to be extended to the community of Uvalde and to all family members that have lost loved ones. We pray that you encircle each of them so they can feel your warmth and guidance during the days and months ahead. We know you have a plan for each of us, but our hearts still break over the loss of children and the teachers and law enforcement that strive to safeguard and protect them each and every day. We turn everything over to you and ask that you provide us the guidance we need to help those suffering in our community as they strive to come to grips with what has occurred. Guide and protect us all, we love you and praise you, Heavenly Father.
AMEN

George McHorse Jr
21st District Commander
830-329-3064
GMJ1201@stx.rr.com